Pancakes in Paris: Living the American Dream in France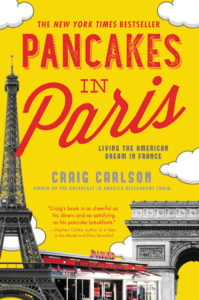 Craig Carlson was the last person anyone would expect to open an American diner in Paris. He came from humble beginnings in a working-class town in Connecticut, had never worked in a restaurant, and didn't know anything about starting a brand-new business. But from his first visit to Paris, Craig knew he had found the city of his dreams, although one thing was still missing-the good ol' American breakfast he loved so much.
Pancakes in Paris is the story of Craig tackling the impossible-from raising the money to fund his dream to tracking down international suppliers for "exotic" American ingredients… and even finding love along the way. His diner, Breakfast In America, is now a renowned tourist destination, and the story of how it came to be is just as delicious and satisfying as the classic breakfast that tops its menu.
Reviews
"Carlson's sweet and entertaining memoir details how a former Hollywood screenwriter opens an American diner in Paris and lives happily after… An inspirational, tasty trip through one man's delightful and hard-won success."
– Publishers Weekly
"Craig's book is cheerful as his diners, and as satisfying as his pancake breakfasts."
– Stephen Clarke, author of "A Year in the Merde and Paris Revealed"
"Anyone who fantasizes about selling everything and moving to France should read this refreshingly honest memoir about what it really takes to operate a successful business in Paris. The real takeaway is how Craig's love for his adopted city and its people is stronger than ever despite — or perhaps because of — the Kafkaesque ordeal he went through to make his dreams come true here."
– Heather Stimmler-Hall, editor of the Secrets of Paris newsletter (www.secretsofparis.com)
"A hearty and delicious serving of adventures about starting the first American breakfast joint in Paris."
– Jennifer Coburn, author of "We'll Always Have Paris"
On Amazon.