A second helping of tales on the joys and challenges of working, eating, and loving in France from the New York Times bestselling author of Pancakes in Paris.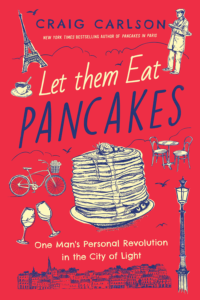 Craig Carlson set out to do the impossible: open the first American diner in Paris. Despite never having owned his own business before—let alone a restaurant, the riskiest business of all—Craig chose to open his diner in a foreign country, with a foreign language that also happens to be the culinary capital of the world. While facing enormous obstacles, whether its finding cooks who can navigate the impossibly petite kitchen (and create delicious roast Turkey for their Thanksgiving Special to boot), finding "exotic" ingredients like bacon, breakfast sausage, and bagels, and dealing with constant strikes, demonstrations, and Kafkaesque French bureaucracy, Craig and his diner, Breakfast in America, went on to be a great success—especially with the French.
By turns hilarious and provocative, Craig takes us hunting for snails with his French mother-in-law and invites us to share the table when he treats his elegant nonagrian neighbor to her first-ever cheeseburger. We encounter a customer at his diner who, as a self-proclaimed anarchist, tries to stiff his bill, saying it's his right to "dine and dash." We navigate Draconian labor laws where bad employees can't be fired (even for theft) and battle antiquated French bureaucracy dating back to Napoleon.
When Craig finds love, he and his debonair French cheri find themselves battling the most unlikely of foes—the notorious Pigeon Man—for their sanity, never mind peace and romance, in their little corner of Paris. For all those who love stories of adventure, delicious food, and over-coming the odds, Let Them Eat Pancakes will satisfy your appetite and leave you wanting even more. The book was released on July 7, 2020.
Reviews
"Charming. Let Them Eat Pancakes explores Carlson's unexpected success operating an American diner in the capital of France, with plenty of colorful anecdotes and personal detours."
-The New York Times
"Hilarious. In addition to the menu, which serves only American food, introducing French customers to diner traditions — bottomless cup o' joe, anyone? — is half the fun."
-New York Post
On Amazon.